When you are looking for a clinic that provides hormone treatments, it can be hard to find someone in your area that has the proper training and appointments available. Telemedicine provides a solution for a variety of reasons that may make finding a local hormone treatment provider difficult. With both TRT telehealth and BHRT telemedicine available, finding a hormone doctor can be accessible to both men and women. Check out these 5 reasons to consider telemedicine for hormone treatments.
Telemedicine is More Convenient
One of the most obvious and most appealing benefits of telemedicine is convenience. Even before the pandemic, convenience was becoming an important factor for modern consumers. Since the pandemic, this has become even more important. Over the course of the last few years, there have been countless examples of people realizing that the time they spend on the things that matter is the most important thing to them.
With telemedicine, you can avoid long waits in doctor's offices, limited scheduling, and time off work. Telemedicine provides the convenience of scheduling on your time and avoiding long commutes and limited parking. In addition, you can attend the appointment directly from your home. This can reduce the stress of the visit making it easier for you to feel comfortable and communicate effectively with your provider.
This can be especially helpful for individuals that live in rural areas and have limited access to hormone therapy clinics or providers for individuals with children. TRT telehealth and BHRT telemedicine expand the reach of hormone clinics to allow accessibility to anyone with an internet connection.
Telemedicine Presents Less Risk of Exposure
While telemedicine was originally designed to expand access to treatment for proximity reasons, in 2020 when the pandemic hit, the virtual healthcare industry exploded. The main reason was because virtual visits allowed patients to interact with their doctors about non-emergent conditions without compromising their own health or the capacity at the hospital.
This has become an important factor when considering any elective treatment such as hormone therapy. Even now, there is a risk of contracting Covid – especially when waiting in a doctor's waiting room. Telemedicine cuts out any risk of exposure to covid or any other contaminants by allowing you to consult with your doctor from the comfort of your own home.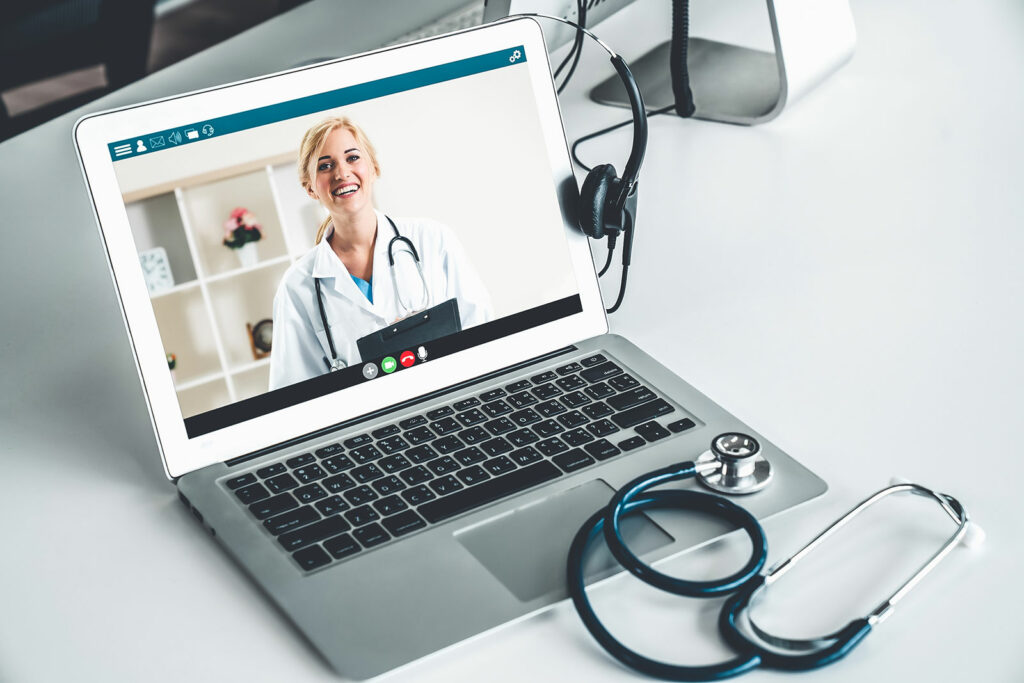 Telemedicine is More Private
Another attractive benefit of telemedicine is privacy. For some, considering hormone therapy is an incredibly personal journey to pursue. Your hormones can impact anything from sexual health to brain function and can offer a variety of treatments for different conditions. This makes hormone therapy a great option for those who are experiencing hormone decline due to aging which involves several personal functions.
Whether you are male or female, you produce both estrogen and testosterone. These hormones have control over several body systems that can impact your overall health. An online testosterone doctor can help you manage your hormones and relieve unpleasant symptoms all from the privacy of your home.
In addition, telehealth is very closely monitored for compliance with all HIPPA regulations and cyber security meaning that your information is also private.
Telemedicine Can Save You Money
Telemedicine can actually help you save money in a few different ways. The first is on the visit itself. Telemedicine visits can actually cost less than in-person visits due to the reduced amount of billable hours a doctor spends physically changing rooms and equipment used sterilizing rooms. As a bonus, this also has been shown to improve doctor-patient relationships by providing a more focused, one on one visit.
The second is money spent on the commute. Depending on where you live, a visit to the doctor may actually cost out-of-pocket expenses in terms of commuting. In rural areas, the time it takes to drive to a specialist could be several hours long meaning that money is spent on a significant amount of gas. In city areas, commuting may include public transportation, tolls, or parking fees. In either case, getting to a physical specialist can be expensive, especially if you need more than one visit.
Finally, you can save money by avoiding taking time off work. Depending on the commute situation and the scheduling availability with the clinic, going to a hormone specialist can require time off work. This can have a huge impact on some people who can not afford to take several days off or who want to save their PTO days for something they enjoy! Telemedicine can accommodate your schedule and reduce time spent commuting and in the waiting room so you don't have to miss any work time.
Telemedicine Benefits the Healthcare System For Everyone
Telemedicine actually does more for the healthcare system than make it more appealing to the general public. Since telemedicine took off, the industry has been watched very closely to ensure proper medical compliance and monitor any privacy and ethical concerns. This has created a clear picture of the industry and how it works with in-person services.
Telehealth options allow hospitals to conserve supplies, reduce spending and, therefore, patient costs, operate more efficiently, treat more patients, and reduce the number of no-show appointments.
In addition, the more personal setting allows doctors to provide better care for patients which is a win for both the patients and the hospitals.
At the end of the day, the benefits of telemedicine speak for themselves. In fact, it is so beneficial for both patients and providers that up to 76% of major providers have already transitioned to providing telehealth since 2020 and up to 90% of all providers say they are working on transitioning.
For some, technology provides a barrier for telehealth treatment, however, providers are actively looking for solutions to this by providing telehealth education and easy-to-use platforms for the most user-friendly option available. 
Take advantage of telehealth today and take control of your hormones with Alpha Hormone® board certified medical providers. Simply book your appointment online to receive detailed instructions that will help you get started with hormone treatment now.