Have you been utilizing telemedicine for your hormone therapy treatment? If so, you may want to pay attention to the new regulations coming from the DEA. Starting in November 2023, medical providers must follow a new set of rules as the COVID-19 Public Health Emergency expires and lawmakers implement updated measures.
Here's the deal: anyone who started or will start a telemedicine relationship with their provider before November 11, 2023, can keep using their video appointments to get their prescriptions for controlled medications as they have been. You can continue receiving online hormone replacement therapy in the same way until November 11, 2024.
However, the new DEA telemedicine regulations change how providers will see and treat patients in the future. This includes requiring the patient to visit their provider at least once per year in person before doing any further telemedicine visits. Don't worry, though; there are alternative options, and we're about to explore those with you.
As always, staying informed about healthcare regulation changes is important to ensure you receive the best care possible. Here's what to know about the changes happening in telemedicine hormone therapy and how they affect you.
What is HRT Telemedicine?
Hormone replacement therapy has been around for decades. However, it wasn't until recently that HRT telemedicine became a popular way to receive hormone therapy. HRT telemedicine is a virtual consultation with a medical professional, usually a hormone specialist. They can diagnose, prescribe, and monitor hormone replacement therapy over a computer or phone.
Why has it recently become so popular? The COVID-19 pandemic accelerated the adoption of HRT telemedicine. With social distancing measures in place, many people were unable or unwilling to visit a doctor's office. Telemedicine, therefore, provided a convenient and safe alternative for people to get the hormone therapy they needed in the comfort of their homes.
Moreover, HRT telemedicine can potentially bring hormone therapy to people who may not have access to specialist providers in their area. This wasn't the case before. Why not? Well, namely, the Ryan Haight Online Pharmacy Consumer Protection Act of 2008 prohibited the sale of controlled substances on the internet.
However, as many people have seen, accessing HRT therapy online during (and after) the pandemic had several benefits. Mostly, it saves time and money. Instead of taking time off from work or travel expenses to visit the doctor, HRT telemedicine removes those barriers. It allows people to have a more flexible schedule.
Another benefit of HRT telemedicine is that it can be more personalized to the individual's needs. As the consultation occurs in a comfortable setting, people may be more inclined to share intimate details with their doctor that they otherwise wouldn't. This can lead to a better diagnosis and personalized treatment options.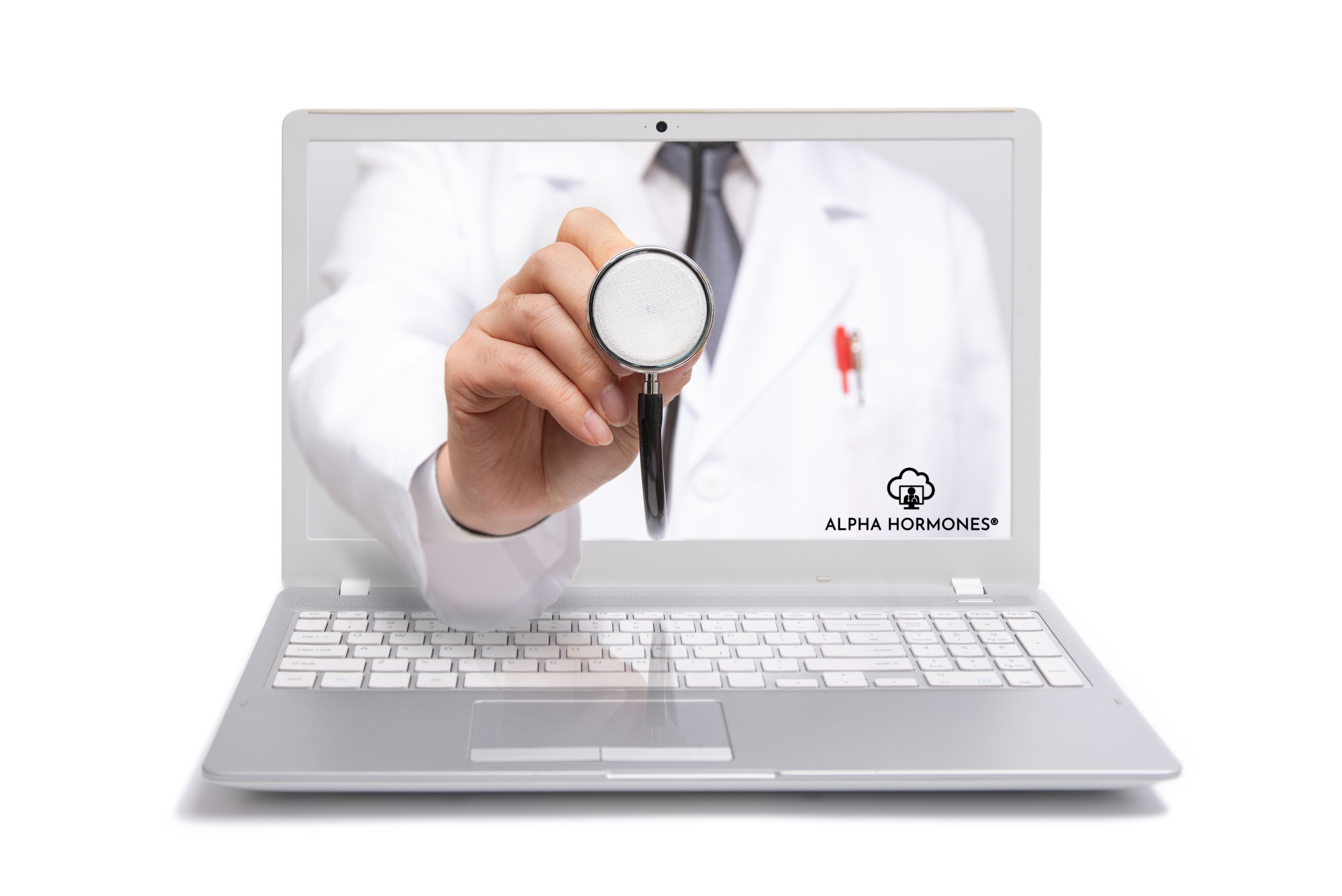 Understanding the New DEA Telemedicine Regulations
While telemedicine laws are changing post-COVID, the new DEA HRT laws are particularly relevant to most of our patients. Whether you're using TRT or BHRT, these regulations might affect how you receive your prescriptions online. Let's dive into these regulations and how they might affect you.
What's most important to know is that the DEA's telemedicine rules change was due to the COVID-19 pandemic public health emergency (PHE) that began in 2020 and recently ended in May 2023. Under these pandemic-era regulations, providers could prescribe controlled substances online to patients they had not previously met in person.
As mentioned above, it wasn't always like that. Before the new DEA telemedicine regulations went into effect in 2020, patients couldn't obtain controlled substances online, even when meeting with a medical professional. During the pandemic, this was okay. It was all part of protecting public health. However, these regulations have now changed. Here's what to know.
New HRT Laws
The new DEA telemedicine regulations state that healthcare providers must conduct a real-time, audio-visual consultation with any new patient before prescribing controlled substances online. This means that virtual consultations for initial patient evaluations are no longer possible.
Additionally, healthcare providers cannot prescribe controlled substances online for patients not previously seen in person. There are a few caveats, though. As mentioned above, if you've already started your treatment or do so before November 11, 2023, you're in the clear for another full year. Or, you can do one of the following:
See your practitioner once via telemedicine and have them prescribe a 30-day supply of controlled substance
Have your PCP or primary doctor follow up in person and send a referral to see us (via telemedicine) for controlled substances prescription and follow-up visits
Again, though, it's important to note that this doesn't immediately affect patients currently receiving online hormone replacement therapy. You have more than a year to sort out your doctor's visits. Therefore, we urge you to speak with your provider to chat about your options.
Moving forward, it's likely that if you want to start HRT telemedicine, you'll have at least one in-person exam before they can prescribe controlled substances like TRT.
Impact on Hormone Therapy Patients
For those who rely on virtual healthcare for hormone therapy, such as TRT or BHRT, this means that initial consultations and follow-up appointments must be in person if you start after November 11, 2023.
After these initial appointments, however, you may rely on virtual consultations for ongoing hormone therapy treatment. It's important to note that hormone therapy is not the only type of treatment affected by these new regulations. Other controlled substances, such as opioids and benzodiazepines, will also be impacted.
The Bottom Line
The new DEA telemedicine regulations are an important change that anyone who relies on virtual healthcare needs to be aware of. The previous regulations affected the prescription of controlled substances online. However, they made sense due to the health emergency caused by the COVID-19 pandemic.
While initial consultations must now occur in person (starting in November 2023), ongoing virtual consultations are still okay for those currently receiving treatment. As always, it's important to consult with a qualified healthcare provider if you have any questions or concerns about your treatment.
What Are Controlled Substances?
When it comes to telemedicine and healthcare, it's important to understand what controlled substances are. This is particularly important regarding HRT laws because, well, not all hormones are controlled substances. For example, estrogen, the feminizing hormone, isn't. Testosterone, however, is.
Let's take a step back, though. What are controlled substances? They're drugs that the government regulates (controls, hence their name).
And, as mentioned, some forms of HRT do involve controlled substances. Certain hormones, like testosterone, are classified as controlled substances. This means they can only be legally obtained through a licensed healthcare provider and require a prescription.
In contrast to testosterone, human growth hormone (HGH) and certain forms of estrogen used in bioidentical hormone replacement therapy (BHRT) are not classified as controlled substances under the Controlled Substances Act.
It's important to note that because a hormone is a controlled substance doesn't mean it's dangerous or addictive. In fact, many people benefit from HRT, and these substances can improve their quality of life. However, it's vital to follow proper protocols and regulations to ensure the safe and responsible use of controlled substances in healthcare.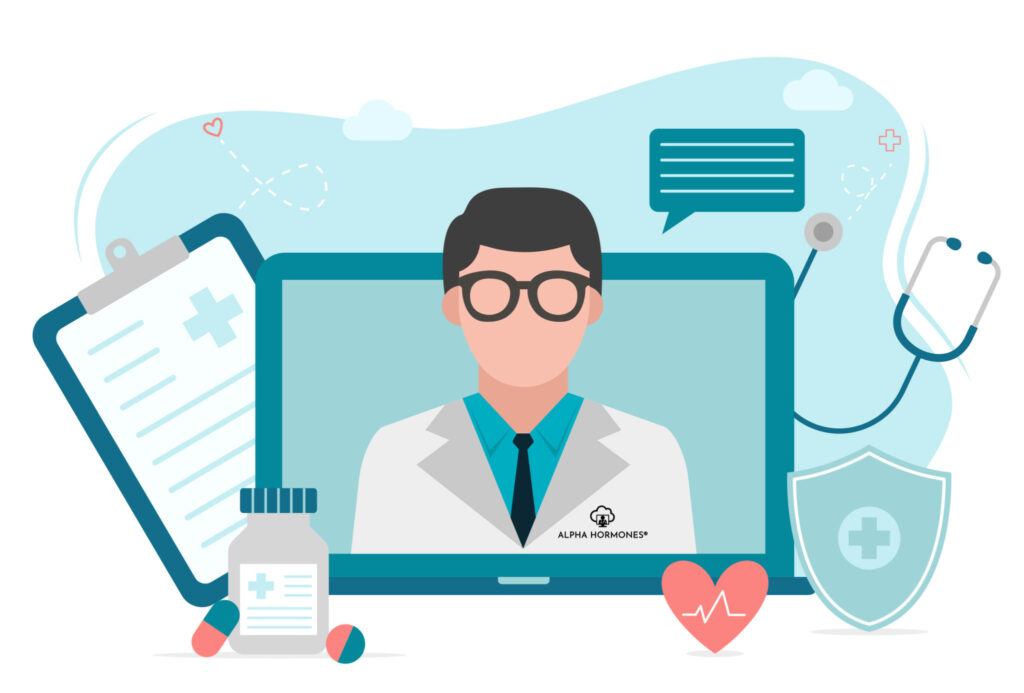 What's the Point of DEA Telemedicine Regulations?
Does it sound like the DEA is out to make life difficult for you? While these new regulations might be inconvenient, the DEA made the changes with patients in mind. At its most basic level, it's all about ensuring patients don't experience any lapses in care when using virtual healthcare services.
With the pandemic on the way out, things are returning to normal. But, for people who need hormone therapy like TRT, HGH, and BHRT, the changes could make a big difference. So, basically, the DEA is updating its rules around virtual medicine to ensure that doctors can still provide the care patients need safely and effectively, even when we're not seeing doctors in person.
Moreover, the DEA wants to ensure doctors follow the same rules for prescribing medications through telemedicine as they would if the patient met with them in person. That way, patients can be sure they get the right treatment, no matter how they see their doctor. This ultimately benefits you and makes the treatment safer.
The Impact of Telemedicine Hormone Therapy
The new DEA telemedicine regulations allow patients to receive ongoing care without interruption. Although the process may be a little different, these new rules have ensured that the progress of hormone therapy isn't derailed, making it easier to manage.
What if you're interested in getting started? What are the benefits of telemedicine hormone therapy? Let's take a look.
No Geographical Limitations
Telemedicine allows you to consult and receive medical professionals' prescriptions, regardless of location. This means you can receive hormone therapy from a specialist without traveling to an office.
Reduced Wait Time
Unlike traditional healthcare, telemedicine eliminates the need for waiting rooms. You can schedule appointments at a time that is convenient for you. This means you'll receive treatment without waiting for an extended period.
Increased Privacy
Many individuals suffering from hormone-related issues may find it challenging to discuss personal issues face-to-face. This is especially true in states with anti-transgender laws. With telemedicine, patients have access to confidential consultations. You can discuss your concerns without fear of judgment.
Convenience and Accessibility
Using telemedicine makes hormone therapy easier to manage. For example, you can consult with your medical professional from the comfort of your home. You'll save time on travel, parking, and waiting in a doctor's office.
How Does Online Hormone Replacement Therapy Work?
Do you want to start HRT telemedicine before November 11, 2023, to benefit from existing DEA HRT laws? Great! We welcome you with open arms. However, it pays to know how it works first.
Online Consultation
The first step in the virtual HRT process is the consultation with a healthcare provider. You can easily find an online HRT provider like Alpha Hormones and set up an appointment.
You will discuss your medical history and symptoms during the consultation. If you're meeting in person, you'll undergo a physical exam. If you're a good candidate for HRT, the healthcare provider will prescribe a treatment plan that suits your needs.
Prescription
Next, you will be prescribed HRT medication. You can order your medication online or receive it through the mail. It's important to note that HRT medication is available in different forms, such as pills, patches, creams, and injections. Your healthcare provider will determine the best medication for you, depending on your medical history and lifestyle.
Treatment
Once you receive your medication, you can begin the treatment process. The duration of HRT therapy varies depending on the type of hormone therapy and your needs. Your healthcare provider will closely monitor your progress. They'll make any necessary adjustments to your treatment plan.
The most important point? It's important to follow all instructions and guidelines your healthcare provider provides to ensure safe and effective treatment. Also, it pays to stay current on changing DEA HRT laws. Telemedicine laws, in general, are changing, and you want to ensure you have access to the treatment you need.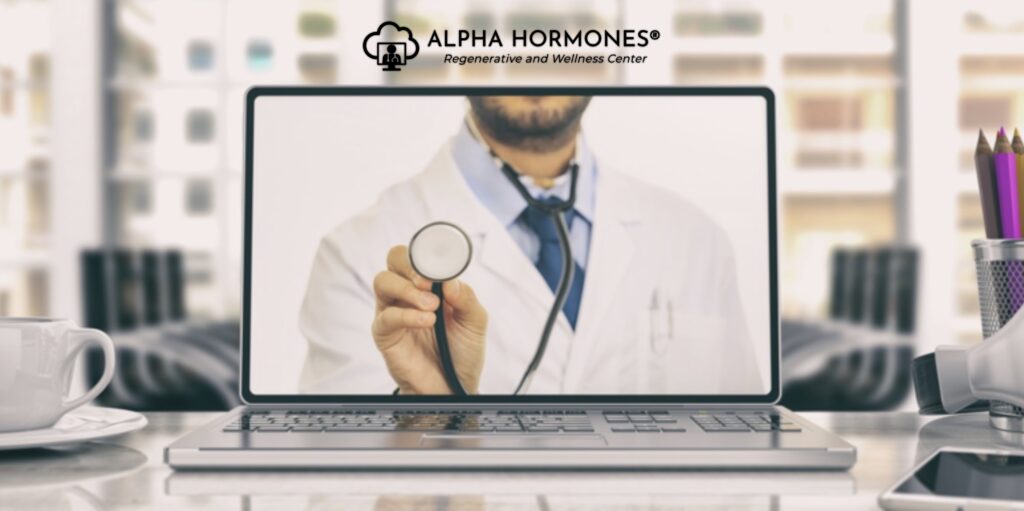 Get HRT Therapy
So, what's the bottom line? There are new DEA telemedicine regulations. These new HRT laws contain certain restrictions on the prescribing of controlled substances through virtual visits. This includes HRT therapies such as TRT and BHRT.
While this may pose some challenges for patients seeking 100% virtual hormone therapy, it's ultimately a necessary measure in the fight against illicit drug use and prescription drug abuse. Despite these regulations, it is still possible for qualifying patients to receive HRT therapies through virtual visits.
At Alpha Hormones, we're committed to providing safe and effective hormone therapy options for our patients while following all necessary regulations and guidelines. We understand the importance of personalized care, and our team of medical professionals is ready to help you identify the best hormone therapy treatment plan to meet your unique needs.
If you have any questions or are interested in starting HRT therapy, don't hesitate to contact us. Our team of experts is here to help you achieve optimal health and wellness through virtual visits. Click here to book an appointment. Or send us a message with questions or doubts.